Solar Sipper Pneumatic Product Skimmer
Available in single or multi-well configurations
Reduces the time and cost for a power line to be run to a site.
Eliminates the need for electricians to do install work and permitting.
The simple and safe low voltage system can be installed without special training or licensing and requires minimal experience.
No trenching or transformer equipment is required.
Relocating equipment to follow a plume or to adjust to new site characterization information is fast and easy.
The Solar Sipper is a solar powered remediation system, designed for remote applications where electrical power is either not available or not economically feasible. This uniquely flexible system can be configured for up to eight wells. The compact, easy to install features make this unit efficient to move and implement multiple wells.
The Solar Sipper uses a unique downwell pump to recover hydrocarbons through a floating oleophilic hydrophobic intake filter. Once the pump canister is filled via the vacuum cycle, the pump reverses, pressurizes the system and pumps the recovered fluid to the surface and into a storage vessel.
The Solar Sipper can effectively extract fluids from depths to 180 feet below ground surface and recover viscous hydrocarbons such as 90 weight oil when our heavy oil skimmer is utilized.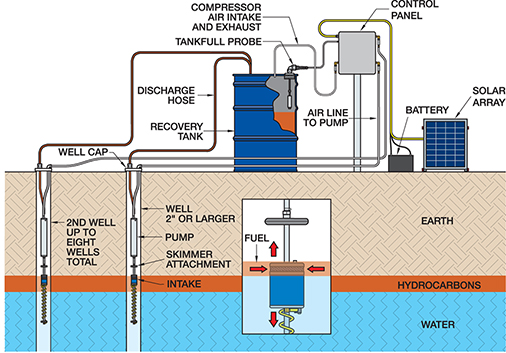 The Solar Sipper recovers floating hydrocarbons (LNAPL) from wells using a solar powered pressure/vacuum pump. The standard Skimmer features a unique product intake assembly that incorporates both a density float and an oleophilic/hydrophobic filter that differentiates between floating hydrocarbons and water. The skimmer floats just above the oil/water interface to collect and remove hydrocarbons from the well into an optional above ground storage tank.
The Solar Sipper is also available for recovery of sinking product (DNAPL) from wells when using a fixed intake.
Applications
2" (50 mm) or larger recovery wells
Recovery Rate
0.2 gallons (757 ml) per cycle
Max Operating Depth
180 feet (55 m)
Power Requirements
12-15 Volts DC input @ up to 14.5 Amps
90 ~ 240 Watts continuous
Max Pressure
100 PSIG (7 bar)
Max Vacuum
20" Hg @ MSL (50 mm Hg)
Oil/Water Separation
Oleophilic/hydrophobic mesh screen
Controller
Operating Temperature
32° to 104°F (0° to 40°C)
Storage Temperature Range
-20° to 150°F (-29° to 66°C)
Humidity
90% non-condensing (max.)
Size
10" D x 18" T x 16" W (25.4cm D x 45.7cm T x 40.6cm W)
Approx. Weight
34 lbs. (15.4kg) single channel
49 lbs. (22.2 kg) eight channel
Rating
NEMA 3R
Optional Solar Panel w/ Frame

| | |
| --- | --- |
| Rated Power | 100 Watts (standard unit) |
| Operating Voltage | 17.4 Volts DC |
| Max Voltage | 21.5 Volts DC |
| Operating Amperage | 4.88 Amps (standard unit) |
| Max Amperage | 5.8 Amps |
| Size | 43.31" H x 28.15" W x 3.15" (110 cm H x 71.5 cm W x 8 cm) |
| Approx. Weight | 19.62 lbs. (8.9 kg) |
Optional Downwell Pump

| | |
| --- | --- |
| Size | 23.5" L x 1.75" OD (59.7cm L x 4.4cm OD) |
| Weight | 4.5 lbs. (2.04 kg) |
| Materials | 303 and 304 Stainless Steel, Flexible Rubber Tubing, PVC, Brass |
Optional Skimmer Assemblies
 
2" Model
4" Model
Effective Travel Range
12" (30.5cm)
24" (61cm)
Size
35.5" L x 1.75" OD (90.2cm L x 4.4cm OD)
35.5" L x 3.75" OD (90.2cm L x 9.5cm OD)
Weight
1.75 lbs. (.79 kg)
2.25 lbs. (1.02 kg)
Operating Temperature
32° to 104°F (0° to 40°C)
Storage Temperature
-20° to 150°F (-29° to 66°C)
Materials
304 Stainless Steel, Polyethylene, PVC, Polypropylene, Brass
Optional Tubing

| | |
| --- | --- |
| Air | .17" ID x .25" OD (4.3mm ID x 6mm OD) |
| Discharge | .375" ID x .5" OD (9.5mm ID x 12.7mm OD) |