Grundfos RediFlo 2 Submersible Groundwater Pump
Stainless steel & teflon components resistant to contamination.
High flow rate capabilities, up to 9 GPM.
Variable frequency drive controller allows for fine tune flow adjustments.
Fits in 2 inch wells and larger (cooling shroud required wells larger than 2")
Motor lead lengths of up to 300 feet.
The Grundfos Redi-Flo 2 is a variable speed submersible ground-water pump used for pumping, purging, and sampling groundwater. It is crafted out of teflon and stainless steel - chemically inert materials that protect your sample from contaminents. It can achieve flow rates up to 9 gallons per minute.
It is powered by the Redi-Flo Variable Frequency Drive, which allows the flow to be adjusted with an excellent degree of precision. The pump fits into a 2 inch diameter groundwater well. A cooling shroud can be purchased for well applications that are larger than 2 inches. The Grundfos Redi-Flo 2 has motor lead length options up to 300 feet.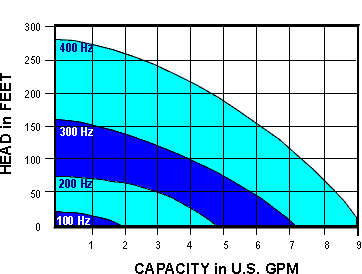 Full Load Rating
5 HP / 220V / 3 PH / 400Hz / 5.5A
Maximum Current (SFA)
5.5 amps
Motor Protection
Thermal overload - Thermik Geratebau, Series SY6 - (176°F [80°C])
Current Overload - Incorporated into Redi-Flo VFD (9.0A for 10 seconds)
Discharge Port
1/2" Female NPT
Minimum Ambient Fluid Temperature
34°F (1°C)
Maximum Ambient Fluid Temperature
80°F (28°C)
Motor Lubricating Fluid
Deionized (DI) Water
Minimum Ambient Storage Temperature
34°F (1°C)
Maximum Ambient Temperature
120°F (50°C)
Dimensions
11.3" length x 1.81" diameter
Net Weight
5.5 lbs., excluding motor lead
Standard lengths in Feet
30, 50, 75, 100, 125, 150, 175, 200, 250, 300
Custom Lengths
Available in 1 ft. increments from 30 to 300 ft.