Geotech Stainless Steel Geosub Pump Rental
Fits in 2" wells or larger.
Pumps from a maximum depth of 200 feet.
Flow rates up to 3.5 GPM or as low as 10 mL/min.
Controller powered by 115 volt AC Power or 12 volt car battery using DC to AC inverter.
The SS Geosub sampling pump is the most versatile single stage 12 Volt DC pump in the industry. Designed with all stainless steel components, the SS Geosub allows you to sample with confidence even in the harshest well conditions. The SS Geosub Pump operates with the Geotech SS Geosub Controller.
The SS Geosub Controller is designed specifically for use with Geotech's SS Geosub Pump. It provides a safe conditioned variable DC output power from an AC power source. Built-in sensing gives the operator accurate and precise control over the pump during sampling events. An average 1000 Watt gasoline powered generator with 1 gallon of gasoline can operate the SS Geosub Controller and Geotech's sampling pump at full power for up to 18 hours continuously (generally much longer runtimes can be expected as the controller is used to reduce water flow for low flow sampling). The DC to AC inverter can be used to power the pump using a 12 V car battery as well!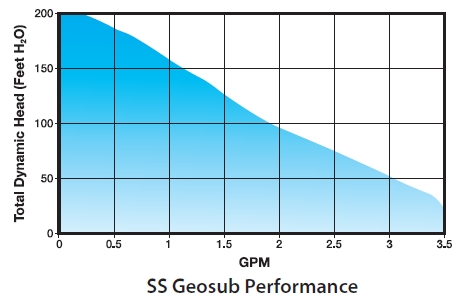 Pump Full Load Rating
2/3 HP
Pump Maximum Amp Draw
35 amps DC
Pump Overload
Incorporated into SS Geosub Controller
Discharge Port Connection
1/4" female NPT (includes 3/8" barb)
Min. Ambient Fluid Temperature
34°F (1°C)
Max. Ambient Fluid Temperature
176°F (80°C)
Pump Wetted Parts
316 Stainless steel, PTFE, Viton®
Dimensions of Pump
12.2" L x 1.75" OD (31cm L x 4.5cm OD)
Net Weight of Pump w/o Lead
3.9 lbs. (1.8 kg)
Cable Material
Two 12 gauge conductors with ETFE jacket, and integrated safety cable
Cable Weight
200' (61 m) of 12 AWG & Safety Cable - 24.9 lbs. (11.3 kg)
Controller Input Power

130 Volts AC
50/60 HZ 310 Watts 2.6 amps nominal full load 115 Volts AC
250 Volts AC
50/60 HZ 310 Watts 1.3 amps nominal full load 230 Volts AC

Controller Output Power
Variable 0-46V DC @ <300 Watts
Controller Amps @ Max Volt
10 amps maximum
Controller Operating Temp
-20°F to 100°F (-29°C to 38°C) ambient air temp.
Controller Humidity
Up to 90% humidity
Controller Weight
16.45 lbs. (7.46 kg)
Controller Size
16" L x 13" W x 7" H (41cm L x 33cm W x 18cm H)
Input Protection
5A CB
SS Geosub Pump
SS Geosub Controller
Geo Reel with 200 ft Cable
DC to AC Inverter
Instruction Manual